Finding a car seat can be a hard thing. The deal is that there are so many on the market and they all have to pass the safety rating before they can make it. So, then there lies the question…what is it that I really need to look for in a seat? We did our research before Graham was born and decided on an Evenflo because it had great ratings and was very affordable.
The new Evenflo Triumph Advance is very impressive for several reasons. First of all, it has taken the features of other, more expensive brands and made them a reality for those on a budget! What makes the more pricey brands… well… pricey are the extra features. The Evenflo Triumph Advance offers the Infinite Slide Harness adjustment which means you will achieve a more secure fit and it is a lot easier. Typical car seats have you thread the harness through the back into a few select holes as far as height adjustment goes. The Infinite Slide Harness allows you to slide it to the perfect position, not just the best available one. You also do not have to worry about threading it trough the back. There is a quick and easy button on the side. The Evenflo Triumph Advance will hold your child up to 50 pounds and was designed and tested to be safe at 2X the Federal crash test standard. I also love the exclusive TensionRight knob that tightens the harness from the side. It is great because I'm not wasting time adjusting uneven straps or yanking to make sure it is super tight. There are also 2 buckle strap positions which is nice when growth spurts happen!
On a more aesthetic level, this seat is BIG! It does fit in our Expedition and will also fit in our Subaru Outback. He's feet are definitely close to the back of the drivers seat, but he also has long legs and feet for a 2 1/2 year old. Also, his legs are pretty close to the back of the seat in his other car seat as well. The fabric has a nice micro fiber feel and seems to be comfortable for Graham. The seat cover is also easily removed thanks to the Velcro in the middle. I'm not sure how this will be over time, but so far it seems to be a nice sanity saving feature (especially if you have one that is potty training).
Overall, I think the $139.99 price tag is a deal for what you are getting and the make of the seat feels very sturdy. The Evenflo Triumph Advance would be a great item to include on a baby registry since the price is so reasonable.
This product was provided free of charge by Evenflo. These are my honest opinions on the product. I do not post reviews on products I can not stand behind. Please see my Terms of Use for more info.
This giveaway has ended. Congratulations to Courtney Stoffel!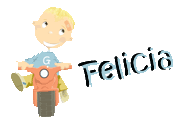 Subscribe to Go Graham Go as well as follow us on Twitter!
Felicia Carter is founder and managing editor of Go Grow Go. Her philosophy is to simplify, save, grow and go! Her home is generally full of DIY projects, crafts, yummy baked goods and lots of love. Felicia is also a wife, mom of 2 boys and nationally certified counselor. You can always find her near the chocolate or the coffee pot.