Davis discovered a brand new food addiction this Thanksgiving.  Creamed Corn.  We generally have a few bags of frozen vegetables in the freezer at any given time (because they contain the same nutrients as fresh) and I happened to have some frozen corn hanging out.  I thought to myself, I should make my baby some really awesome homemade creamed corn!  I think it turned out pretty great and it was super easy.  This is one of those recipes that you are going to have to eyeball and taste to make it work for you and your corn!
Easy Cream Corn Recipe
Ingredients: 
1 bag of frozen corn
2 or 3 tablespoons of butter
2 or 3 tablespoons of flour
1 or 2 cups of milk
1 tablespoon sugar
salt and pepper to taste
Preparation:
Cook your frozen corn and drain.  Melt your butter down in the saucepan.  If you are using an entire bag of cream corn then you are going to use about 3 tablespoons.  Cut this recipe down if you are using less.  Once the butter is melted begin adding your flour and whisk it in until it is blended together.  It may be clumpy.  Start whisking your milk into the pan on medium-low heat.  I generally pour about a half cup of milk at a time so that I can make sure I am not making it too thin.  Keep in mind that if you are using skim milk it will be more watery (that's what I use).  Keep pouring in the milk until it reaches the consistency you would like.  The longer it sits the thicker the sauce will become.  Add in your sugar, salt and pepper and mix well.  Dump in your cooked corn, mix and you are good to go for creamy goodness!
Visit Balancing Beauty and Bedlam for more recipe ideas!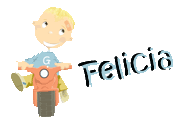 Subscribe to Go Graham Go! by Email as well as follow us on Twitter!
Felicia Carter is founder and managing editor of Go Grow Go. Her philosophy is to simplify, save, grow and go! Her home is generally full of DIY projects, crafts, yummy baked goods and lots of love. Felicia is also a wife, mom of 2 boys and nationally certified counselor. You can always find her near the chocolate or the coffee pot.