Here is a delicious alternative to regular old oatmeal!  This serves up almost like coffee cake.  Graham and I enjoyed it so much yesterday morning that this has been added to our list of favorites.  Just mix it together the night before, refrigerate, then pop in the oven when you wake up!
Ingredients:
1/2 cup vegetable oil
3/4 cup white sugar
2 eggs
1 cup milk
1/2 teaspoon salt
1 tablespoon baking powder
3 cups quick cooking oats
1/2 cup raisins
2 tablespoons brown sugar
1/2 teaspoon ground cinnamon
Preparation:
Mix together oil and sugar. Mix in eggs, milk, salt, baking powder, oatmeal. Beat well then stir in raisins (you can leave out raisins if you are not a fan). Pour into a lightly greased pan (I used a cake pan). Sprinkle with brown sugar and cinnamon. Refrigerate overnight. 
The next morning, preheat oven to 350 degrees and bake for about 35 minutes or until firm.  Make sure to serve this hot!  I love eating it topped with extra raisins.
Fore more recipes: Alli-n-Son, Balancing Beauty and Bedlam, Life as Mom, A Beautiful Mess, $5 Dinners, Blessed with Grace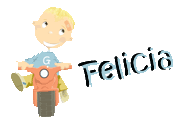 Subscribe to Go Graham Go! by Email as well as follow us on Twitter!
Felicia Carter is founder and managing editor of Go Grow Go. Her philosophy is to simplify, save, grow and go! Her home is generally full of DIY projects, crafts, yummy baked goods and lots of love. Felicia is also a wife, mom of 2 boys and nationally certified counselor. You can always find her near the chocolate or the coffee pot.