I had never cooked baby back ribs in my life until last week.  When my mother sent over a link describing some awesome BOGOs at Harris Teeter, I couldn't pass up the buy one get one free baby back ribs.  My husband loves them and I was determined to cook them!  It turns out that they are easier to cook than you would think.  I found this simple recipe online that literally has the meat falling off the bones!  Keep in mind, this does take some preparation ahead of time in order to marinate the ribs.
What you Need:
Baby Back Ribs
BBQ sauce
Cooking Spray
Aluminum Foil
Preparation:
The night before you cook these you will need to lay out aluminum foil, spray it well with cooking spray, place the ribs on top and brush them in the BBQ sauce.  Wrap the aluminum foil tightly around the ribs and place in the fridge for 8 hours or overnight.  When you are ready to cook  you want to preheat the oven to 300 degrees.  Cook at 300 for 2 1/2 hours.  Once they are finished you can add more sauce if you need the extra flavor.
These were so good that Graham ate his entire plate (and he isn't a big meat eater).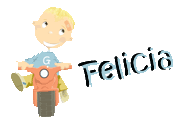 Subscribe to Go Graham Go as well as follow us on Twitter!
Felicia Carter is founder and managing editor of Go Grow Go. Her philosophy is to simplify, save, grow and go! Her home is generally full of DIY projects, crafts, yummy baked goods and lots of love. Felicia is also a wife, mom of 2 boys and nationally certified counselor. You can always find her near the chocolate or the coffee pot.