Taking your kids to Disney is something that most parents dream about.  Just seeing their eyes light up when they see their favorite Disney character is worth the trip.  I know I have talked about taking Graham when he gets a little older, old enough to enjoy that is.  Well, now I don't have to wait, and neither do you, thanks to a book that I was recently introduced to written by Lisa M. Battista called Beyond the Attractions: A Guide to Walt Disney World with Preschoolers.
 

This February, I will have the pleasure of attending a conference at Disney World in Orlando and my husband and son will be coming along for the ride.  My husband was trying to figure out what he and Graham will see and do while I am in the conference.  Thankfully, I was contacted about reviewing this book.  Now we have a guide of what to see and do while at Disney that's tailored for 2-5 year olds.   
Beyond the Attractions: A Guide to Walt Disney World with Preschoolers starts out with the basics of Disney Orlando discussing lodging on the resort, transportation to and from as well as in and around the resorts.  It also talks about the places to eat and the approximate costs for children and adults.  The book is laid out according to the different parks and things to do at each park paying careful attention to what your toddler will be most interested in.  
A lot of thought has been put into your toddlers Disney experience.  Some of the attractions may be shows or rides with dimmed lights and spooky characters that might scare your little one if they are not prepared.  I know Graham can get scared easily if he isn't prepared of an upcoming situation.  Whether your child is into rides, shows, or personal visits with their favorite Disney character, Disney has it and this book will prepare you for it.


We plan on taking our guide with us for the trip.  It is organized so well that we can turn to whatever we need and get an answer!  You can purchase Beyond the Attractions: A Guide to Walt Disney World with Preschoolers for $15.99 at Amazon.com or at BeyondtheAttractions.com.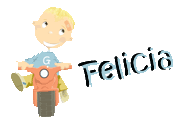 Subscribe to Go Graham Go as well as follow us on Twitter!
Felicia Carter is founder and managing editor of Go Grow Go. Her philosophy is to simplify, save, grow and go! Her home is generally full of DIY projects, crafts, yummy baked goods and lots of love. Felicia is also a wife, mom of 2 boys and nationally certified counselor. You can always find her near the chocolate or the coffee pot.