How many of you have tons of Halloween candy hanging around until Christmas?  One tip I received last year was to go ahead and throw out the things that you know your kids will not/should not eat and then portion it out a little at a time until all the Christmas candy arrives.  Then, you do the process all over again.  The thing is, there is this continual flow of candy in your home!  Yikes!  It is so bad that I have become "that mom".  I purchase Playdoh, pretzels or teddy grahams for our trick or treaters.  Graham's preschool even suggests that people purchase those types of treats as opposed to candy.  Now don't get me wrong… I am all for candy… just not buckets full!
Well, here is another brilliant idea for those of you looking for options that won't rot your teeth.  Wikki Stix!  I know you all have seen and maybe even played with these along with your kids.  They are fabulous for entertaining at restaurants as well.  This year you can purchase a Trick-or-Treat pack of 50 individually wrapped Wikki Stix that are perfect for plastic pumpkins.  They come in Halloween colors and have 8 Wikki Stix and a Halloween play sheet in each pack.
From now until 10/21 you can receive a free Halloween Fun Kit with the purchase of a Trick or Treat Pack.  the Halloween pack has 7 different activities that will get your kids into the spirit!  Make a mask, decorate a pumpkin, create a spiderweb and more.
What are your dentist friendly Halloween treat ideas?
This product was provided free of charge by Wikki Stix. These are my honest opinions on the product. I do not post reviews on products I can not stand behind. Please see my Terms of Use for more info.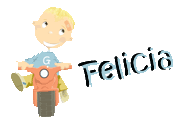 Subscribe to Go Graham Go! by Email as well as follow us on Twitter!