I know that one of the top gift ideas every season are play kitchens! Graham doesn't currently have one, but he is constantly playing with his friend Claire's when he goes over for visits. Pretend play kitchens are toys that seem to last for a very long time and cover a very broad age group so that they are "fun" longer!
Pretend Play Kitchens is a great site for finding the perfect kitchen set! They offer FREE shipping on all orders as well as a $5 off coupon when you sign up for their mailing list! Pretend Play Kitchens sent us the Primary Toaster Set by Kid Kraft for review. I love wooden toys because they seem to stand the test of time! The color of this set is great because it is very gender neutral.
The Primary Toaster Set is actually functional! You just pop the wooden toast into the toaster and push down the lever. To pop the toast back out you press the yellow button on the side. This set comes with a plate, butter that is slice able (Velcro), two pieces of wooden toast, the toaster, and a wooden play butter knife. You will also be glad to know that there is no assembly necessary! It is such a fun addition to any play kitche n you may have and is sure to stand the test of time! The Primary Toaster Set retails for $37.95.
If you like the Toaster Set, you also need to check out the Smoothie Set (complete with wooden blender) and the Baking Set (complete with mixer)! They are all so adorable and look very similar to the actual cooking utensils so that your child will feel like they are really a part of the kitchen. The play kitchens equally as adorable and come in several different styles and prices so that you are sure to find one that meets your child's needs as well as your wallet!
See it in Action:
This giveaway has ended! Congratulations to the Leonard Family!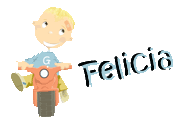 Subscribe to Go Graham Go as well as follow us on Twitter!
Felicia Carter is founder and managing editor of Go Grow Go. Her philosophy is to simplify, save, grow and go! Her home is generally full of DIY projects, crafts, yummy baked goods and lots of love. Felicia is also a wife, mom of 2 boys and nationally certified counselor. You can always find her near the chocolate or the coffee pot.