Yesterday Graham and I had the pleasure of surprising his preschool director with a box filled with $100 worth of goodies from OfficeMax!  I also gave her the books from the Proctor and Gamble campaign.  She was so thrilled to have the items and will be putting them all to good use.  We are so thankful for Graham's preschool director.  She is constantly buying puzzles, books and other supplies for the preschool.  Not only is she in charge of its operation, but she is also a teacher at the high school!  She literally gets no break!  We also really love Graham's preschool teachers and are so thankful for them and how much they care for the kids.
I know first hand how much money teachers spend on their students that comes straight from their pockets.  On average they spend about $1K in a year.  This doesn't even take into consideration all of the things I have seen them buy at Christmas time just to make sure a family has a meal or a few gifts.  You may remember my post yesterday where we surprised a local teacher with $1K in school supplies!  What an amazing time we had and what a blessing it is to be able to give back to those who give so much of themselves.  I am always honored to work with the A Day Made Better campaign because of all they do for these hard working teachers.
This giveaway has ended.  Congratulations to Eileen!


This post is part of my participation in the Max Moms for Teachers Ambassador program.  I have not been compensated for this post.  Please see my Terms of Use for more info.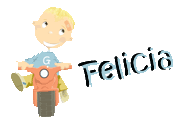 Subscribe to Go Graham Go! by Email as well as follow us on Twitter!
Felicia Carter is founder and managing editor of Go Grow Go. Her philosophy is to simplify, save, grow and go! Her home is generally full of DIY projects, crafts, yummy baked goods and lots of love. Felicia is also a wife, mom of 2 boys and nationally certified counselor. You can always find her near the chocolate or the coffee pot.
If you enjoyed this post, join the 4K+ others who subscribe for updates! {it's free of course}: