I hate to say it, but it is definitely that time of year!  My poor husband has actually been sick since Christmas day and I know my sweet friend Piera over at Jolly Mom has been feeling pretty bad as well.  What's worse than feeling bad yourself is having a sick child.  I know we can all relate to feeling helpless wanting them to feel better instantly!
If you are on Facebook you should know about an informative page that Kaz, Inc, the makers of Vicks, Braun, and Honeywell have set up.  It is called Cold and Flu Central and it is full of tips, coupons, and even giveaways right now.  They have informative videos located on the YouTube tab as well as doctor's tips from Jennifer Trachtenberg, M.D.  Check out the money saving coupons on humidifiers and thermometers as well!
In honor of the new Facebook page, we were sent the Starry Night Cool Mist Humidifier for review along with the Vicks Forehead Thermometer.  I definitely am a huge fan of Vicks Humidifiers because the other we own has been so great!  The Starry Night Humidifier is great because we are able to run on one tank of water for about 3 nights.  There are two settings to choose from, Max or Sleep Mode.  We run ours on sleep mode when we use it.  The starry night feature is great!  It actually works better for Graham than his nightlight.  We put it on the floor and the night scene fills up about half of his ceiling.  The scene rotates through a few different colors.  The Starry Night Humidifier is so small that you could also use it on a bedside table.  The Starry Night Humidifier retails for about $49.99.
The Vicks Forehead Thermometer is actually one of the easiest temporal thermometers I have used as far as ease of sliding.  Because it has an added padding, it really makes it flow across the forehead without skidding (ouch)!  It also gives you a color read out to let you know if the temperature is too high (red) or just fine (yellow).  I will say that our pediatrician would rather us take temperatures other ways because he says that temporal thermometers still need more research.  The Vicks Forehead Thermometer retails for about $59.
This giveaway has ended.  Congratulations to momof2girls and J.E.!
This product was provided free of charge by Kaz, Inc. These are my honest opinions on the product. I do not post reviews on products I can not stand behind. Please see my Terms of Use for more info.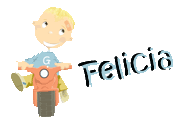 Subscribe to Go Graham Go as well as follow us on Twitter!
Felicia Carter is founder and managing editor of Go Grow Go. Her philosophy is to simplify, save, grow and go! Her home is generally full of DIY projects, crafts, yummy baked goods and lots of love. Felicia is also a wife, mom of 2 boys and nationally certified counselor. You can always find her near the chocolate or the coffee pot.