Something you will often find me doing is fumbling around to find my car keys in my diaper bag.  I know that there is probably a convenient place to put them, but I can't seem to find it!  I know that when I used diaper bags with Graham I always struggled to find things in a timely manner.  What if everything you needed accessory wise was right at your finger tips and available in just one click?  Well, that's what the Clic-It Diaper Bag has set out to do.
I have never seen anything quite like this before and it makes a lot of sense!  The Clic-It Diaper Bag uses its very own accessories and its own Clic-It system in order to make your life more organized.  The system allows you to choose what accessories you would like to take with you and place them in an easy location for access.  With one hand you can press in the sides of the button and remove what you need.  Of course, my favorite is the Key Ring!
See it in Action:
What is nice about the Clic-It Diaper Bag is that you can make it what you need it to be.  If you are going on a long trip this diaper bag can become a bigger overnight bag with all of your accessories in tow.  If you are just headed out to the grocery store you may just need the Diapers and Wipes Case.  You can even use the 2-in-1 Strap and Belt if you don't want to bring along the bag.  The Messenger Flap is also removable.  I like the thoughtful details that have gone into the Clic-It Diaper Bag.  For instance, the bottoms of each of the accessory cases have magnets that coordinate with the Messenger Flap to help secure it.  If you decide not to put any accessory cases on the outside portion of the bag there are also magnets that secure the flap to the bag itself.  You can even use this bag long after you have kids out of diapers.  It is the perfect size for a laptop bag!
I was sent the Bottle Holder, Diapers & Wipes Case, Organizer Pouch, Changing Kit, and Strap and Belt to review along with the Clic-It Diaper Bag.  Each of the accessories are sized wonderfully and are sturdy in construction.  There are seven different Clic-It posts spread across the bag.  Three in the front, two on the inside and two on both outside edges.  The inside has a water-proof lining as well as several different pockets for organization.  The back of the Clic-It Diaper bag has an extra pouch  that I have found useful for storing the Changing Kit.  It is also handy to have the two bottle holders on the outside sides of the diaper bag (easy access).
The Clic-It Diaper Bag retails for $49.99 with accessories ranging from $4.99-$14.99.   Check Clic-It out on Facebook!
A Chance to Win
Clic-It is kicking off the "Gearing Up for Baby" contest from November 15 – December 24. Log onto www.clicitbag.com for details on how to enter for a chance to win a prize pack including a new Clic-It diaper bag and accessory assortment (retail value: $117.00).
This product was provided free of charge by Team Mom and Clic-It. These are my honest opinions on the product. I do not post reviews on products I can not stand behind. Please see my Terms of Use for more info.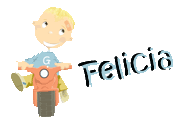 Subscribe to Go Graham Go as well as follow us on Twitter!
Felicia Carter is founder and managing editor of Go Grow Go. Her philosophy is to simplify, save, grow and go! Her home is generally full of DIY projects, crafts, yummy baked goods and lots of love. Felicia is also a wife, mom of 2 boys and nationally certified counselor. You can always find her near the chocolate or the coffee pot.