Looking for 2011's deals? Head over HERE!

The Children's Place will be opening doors at 5am on Friday. The word is that select items will be on sale for $5-$8! To get the inside scoop make sure to become a fan on Facebook. They started posting deals and giveaway promotions at 12pm today on the Facebook page!
Also, The Children's Place will be featuring a few different items starting Black Friday until mid-December. You will find items like children's books, stuffed animals, plates and cups for newborns and watches for boys and girls.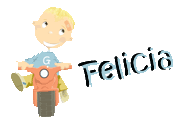 Subscribe to Go Graham Go as well as follow us on Twitter!
Felicia Carter is founder and managing editor of Go Grow Go. Her philosophy is to simplify, save, grow and go! Her home is generally full of DIY projects, crafts, yummy baked goods and lots of love. Felicia is also a wife, mom of 2 boys and nationally certified counselor. You can always find her near the chocolate or the coffee pot.