As a high school counselor I see first hand how anxious parents can become when they know it is time for their child to head out to college. It is a scary time! Our church often puts together care packages to send out to the new college students to help them out and show we care. Well, now there is a company that has done all the hard work for you!
Box-O-Box is an independently owned and operated company that was started by former students of various schools, who have witnessed the effects of junky care packages for far too long. (I hope the ones I helped send weren't among those.. uh oh!). Seriously, this team has created such a wonderful combination of items and they have any and every occasion you could think of. Here are some examples: Feel Better, Pamper Yourself, Exam Time, and All Nighter. There are many more to choose from!
Box-O-Box allows you to put in your own personalized message to the recipient. They also have funny illustrations on the inside that go along with the theme!
I received the "Feel Better" Box-O-Box and was thouroughly impressed! N
ot only is it a huge box, but the packaging is wonderful! The items included are were some of the best products on the market! I'm talking about organic and hard to find items such as:
Yummy Earthy Vitamin C Drops
Fisherman's Friend Lozenges
Chocolate Band Aids
Campbells Instant Soup
Clif Nector Bars
ABC Luscious Lemon Poppyseed Cookie
Burts Bees Lip Balm
Dr. Chocolate Bar
Yogi Tea Cold Season Sampler
Stacy's Pita Chips
Not only are these boxes excellent for your college student, but they make wonderful care packages for anyone! With so many options, you will be sure to find one that fits your situation! I think they are wonderful and I can't wait to tell all the parents I work with about them!
Thank you to the Family Review Network for this review opportunity.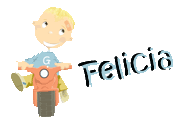 Felicia Carter is founder and managing editor of Go Grow Go. Her philosophy is to simplify, save, grow and go! Her home is generally full of DIY projects, crafts, yummy baked goods and lots of love. Felicia is also a wife, mom of 2 boys and nationally certified counselor. You can always find her near the chocolate or the coffee pot.