I am so delighted that I have a child who loves books!  Honestly, we can stay in a book store or library for hours with him content.  If you have a Borders near by, you are going to be excited about their new summer reading program called the Double-Dog Dare Summer Reading Challenge.  Every child up to age 12 who reads ANY 10 books this summer (through the end of August) will receive a free book!  I think Graham could meet this challenge in about 3 days!
I've teamed up with Borders in order to offer you a few tips for promoting a love of reading in your children as well as offer a really fun giveaway!  I would love it if you would offer some of your own tips for encouraging reading with your children.  Stay tuned for more!
This Week's Tip from HarperCollins and author Jon Scieszka (one of Graham's favorite authors):
"If you want to inspire your boy reader, expand your definition of reading to include non-fiction, graphic novels, funny books, wordless books, audio books and magazines. Summer reading is a great time to explore texts that aren't covered/allowed in school reading."
Borders is offering a giveaway to readers as well as provided me with a gift card to Borders to encourage my own son's reading habits! Please see my Terms of Use for more info.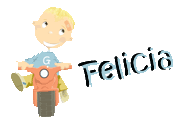 Subscribe to Go Graham Go as well as follow us on Twitter!
Felicia Carter is founder and managing editor of Go Grow Go. Her philosophy is to simplify, save, grow and go! Her home is generally full of DIY projects, crafts, yummy baked goods and lots of love. Felicia is also a wife, mom of 2 boys and nationally certified counselor. You can always find her near the chocolate or the coffee pot.
If you enjoyed this post, join the 4K+ others who subscribe for updates! {it's free of course}: