What does a blogger do when their child is entering a new stage of transition? She throws a BLOG PARTY! Piera and I have two little boys who are transitioning from a crib to a big kid bed and whole knew big kid lifestyles! We want to share some products we have found that can help make your brand new BIG Kid Room a hit and also share some transition tips.
Please join us starting July 20th!
We are going to have a blast!
Want to get in on the entries early? Grab this adorable button and slap it up on your sidebar! Leave us a comment here letting us know it is up and where to find it and you will receive 3 extra entries on every BIG Kid Room Party Giveaway item! Just make sure to leave separate entries.
Want even more entries? Blog about the BIG Kid Room Blog Party and link to Go Graham Go and Jolly Mom and receive 3 more entries!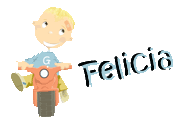 Felicia Carter is founder and managing editor of Go Grow Go. Her philosophy is to simplify, save, grow and go! Her home is generally full of DIY projects, crafts, yummy baked goods and lots of love. Felicia is also a wife, mom of 2 boys and nationally certified counselor. You can always find her near the chocolate or the coffee pot.