For Make Something Monday I wanted to tie into our Big Kid Room Blog Party week. It is bitter sweet to watch our children grow. On one hand, we long for them to master new things, to learn and grow. But, it can be heart breaking to look back and think that this tiny little baby is no more. One way to document your child's physical growth is with a growth chart! It can be fun and very simple to create one.
What you will need (a lot of it you probably have lying around the house):
Yard Stick (sometimes found at the $1 store)
A wooden figure (or something to decorate the top)
Paint (sharpies)
Hot glue or wood glue
Instructions:
Simply use the paint to cover the side of the yard stick beside the actual numbers and lines (or the entire yard stick if it is ugly like mine). This will be where you can customize with your child's name, date of birth, a favorite scripture, etc. Once you have it customized the way you would like it, simply hot glue your wooden figure or decorative topping to the top of the yard stick.
(Of course, mine is no where near complete…it was a last minute spark of an idea that I haven't had the chance to complete).
Once your child has surpassed the yard stick, you can easily add on with more wood or cut another yard stick in half and add to the top. Your best bet is to just nail this into the wall since it is a heavier item.
Do you have any ideas or tips for making a simple growth chart? I'd love to hear them! Feel free to link up your crafts, recipes, or anything you made so we can all check them out!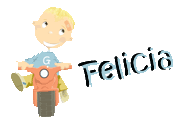 Subscribe to Go Graham Go as well as follow us on Twitter!
Felicia Carter is founder and managing editor of Go Grow Go. Her philosophy is to simplify, save, grow and go! Her home is generally full of DIY projects, crafts, yummy baked goods and lots of love. Felicia is also a wife, mom of 2 boys and nationally certified counselor. You can always find her near the chocolate or the coffee pot.