Graham is a
book
lover! Just ask my mom or dad their experience with that! He loves to grab books from his book basket and bring them to you one after the other! My husband and I came home from our anniversary to find both of my parents passed out on the couch with a HUGE stack of books on the coffee table! I asked what happened…they said, "He just kept bringing us books to read… all night long!"
So, I set out to find the best books for him! If he is going to be reading, I want him to have the right equipment! Begin Smart Books is not just another reading program, this company has truly taken the time and done the research to come up with a system that gives your child what they need developmentally! What I love about these books is that each one tells you why that particular book is important to your child's age! It even gives tips on how to use this book with your child for the best results! I also love that when you are shopping for a book, all you have to do is look at the age categories! Also, the quality of how well made these books are is truly beyond compare! Each book has at least one sturdy foam piece within the board for added durability! This was the first thing my husband commented on!
Newborn to 6 months: In the first 6 months babies' eyes focus, they begin to notice the difference between voices and their mouths and hands are used for exploration! Here are the books we reviewed in this category:
Baby Faces: This book is what it says! A book of adorable baby faces with different expressions. It also features black and white patterns around the edges for visual stimulation and it folds completely out so that your baby can see the faces all at once or one at a time! This would be a great tummy time companion! This book helps inhance tracking, object recognition, and bonding to name a few!
Hello, Baby!: This book features babies playing peek-a-boo with simple words, "baby, where's baby, there's baby, peek-a-boo". So many babies love the game of peek-a-boo and this also teaches a child about object permanence!



6-12 Months: Words start to make sense and your child can sit-up and turn pages!
Quack! Quack!: This book starts to teach your baby all about animals and the sounds they make! It has shiney pages with texture and bold colors that babies love! Some of Graham's favorite first books were animal books!
What Does Baby Do?: This is one of my favorites! It is a lift-the-flap book that talks about typical things a baby would want to do, "Baby sees a kitty. What does baby do? Baby makes nice. Nice Kitty!" This book gets you involved and helps babies learn to match words and actions!



12-18 Months: Toddlers can now hold books and tell you which ones they want to read! They are starting to understand the concepts of color and number.

Splish-Splash: A wonderful rhyming, flowing feeling is what this book has! It's about a baby bear getting in the bath and ready for bed. This helps with creative play and language skills. It also gets mom and dad involved!




18-24 Months: Toddlers truly know what they want to read at this point! They are learning their numbers, letters, shapes and colors!

Feet Are Neat!: This one is Graham's FAVORITE! It has a fun rhyming feel that talks about all the things are feet can do! The last page actually says "Hooray for those" (talking about our toes) and Graham will grab this one out of the basket and open it up and shout "Hooray!" This book is great for getting your child involved (moving feet) and helps with language imitation and stimulation (the "Hooray" example).

Who Am I?: This adoreable book has cut-outs for your eyes! You become the animal! I love how this book really gets everyone invloved! Once you've put the "mask" on, your toddler will want to too! This is a great book for learning animal recognition.
One Two: Graham is also very found of this book! He has started learning his numbers and this has help to reinforce what he has learned. He is actually starting to develop the concept of counting and not just the name of the numbers. This book features concrete objects (ball, duck, rattle) with numbers. There might be one rattle and the next page there are two rattles. You count along with your child!
These books truly work and they take all of the guess work out of choosing! They help foster learning at an appropriate level. These would be an excellent idea for baby showers and first birthday party gifts! I am always looking for unique and educational ideas for gifts!
Giveaway closed and winner chosen!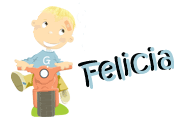 Felicia Carter is founder and managing editor of Go Grow Go. Her philosophy is to simplify, save, grow and go! Her home is generally full of DIY projects, crafts, yummy baked goods and lots of love. Felicia is also a wife, mom of 2 boys and nationally certified counselor. You can always find her near the chocolate or the coffee pot.