Well, I certainly try to be..but I fall miserably short most meals. Don't get me wrong, I cook with healthy foods, but it isn't always easy to convince Graham to actually eat it! What happened to the days when he was a baby and gladly accepted any vegetable you could spoon into his mouth?
Ronzoni Smart Taste recently took a survey of moms and found that more than half of moms with children ages 3-12 find it challenging to feed healthy foods to their kids. They've even come up with a "Supermom" video spoof on the matter. I'm not sure if I can completely fall into that category, but it is definitely hard to add a lot of variety to Graham's diet at the moment. What he does eat is healthy, but it may be the same 2 or 3 things over and over again!
We were sent the Ronzoni Smart Taste spaghetti pasta to try out. This is regular white pasta (we normally buy multigrain) that has added calcium and fiber. The box says that there is 3x the fiber and calcium. When I make spaghetti I normally buy the garden veggie sauce to go along with it. We made it tonight and I can honestly say that the pasta tasted just like any other white pasta I have had before. You couldn't tell a difference. Graham ate it just like he does the spaghetti I normally make. Since I know that Graham will eat multigrain pasta I think that I will stick with it, but, if you have a child who does not like the taste of multigrain I think this is a great alternative!
You can find recipe ideas as well as a $1 off coupon at the Ronzoni Smart Taste website!
I wrote this review while participating in a blog tour campaign by Mom Central on behalf of Ronzoni Pasta and received a sample of Ronzoni Smart Taste Pasta to facilitate my review and a $20 thank-you gift certificate.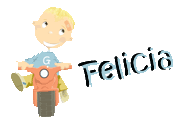 Subscribe to Go Graham Go as well as follow us on Twitter!
Felicia Carter is founder and managing editor of Go Grow Go. Her philosophy is to simplify, save, grow and go! Her home is generally full of DIY projects, crafts, yummy baked goods and lots of love. Felicia is also a wife, mom of 2 boys and nationally certified counselor. You can always find her near the chocolate or the coffee pot.