I hate to admit it, but I was cleaning out the playroom/junk room yesterday and found that Graham's old high chair still had food stuck on the side! Gross! I looked under the cabinet for the closest cleaner and grabbed the Baby Girl All Purpose Cleaner that was sent to me a couple of weeks ago. It is all natural and I was a little nervous that it would not be strong enough to remove the food that had been there for probably several of months (I know… hanging my head in shame). Much to my surprise, the cleaner worked instantly! I didn't even have to let it sit!
Baby Girl cleaner is certified organic and was created by a mom! Check out the ingredients: Water, vinegar, organic coconut oil, organic olive oil, organic jojoba oil, peppermint essential oil blend, organic aloe vera, rosemary extract, and sodium carbonate. I love the fact that it is safe to use around kids. I always worry when I spray down the table that traces of the chemicals I am using are going to end up in our bellies or under our skin.
The smell of this cleaner is also nice. You can definitely detect the vinegar, but it is nicely hidden by a fresh rosemary and peppermint scent. It has been working well on all of our finishes (wood, plastic, vinyl, and ceramic). You may want to know that if you use a lot in one spot it can become a little greasy due to the oil extracts but it is easily wiped away with water.
If you are looking for an all natural alternative to your high powered cleaners, this is the way to go! For $6.95 it is also nicely priced!


This giveaway has ended. Congratulations to cpsnsamples!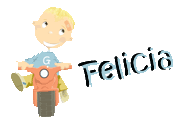 Felicia Carter is founder and managing editor of Go Grow Go. Her philosophy is to simplify, save, grow and go! Her home is generally full of DIY projects, crafts, yummy baked goods and lots of love. Felicia is also a wife, mom of 2 boys and nationally certified counselor. You can always find her near the chocolate or the coffee pot.